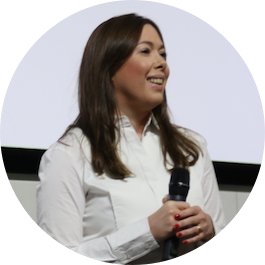 Copy Chief Vikki Ross writes for some of the UK's biggest brands and tells many of them how to talk.
As a speaker, teacher, trainer and mentor, Vikki inspires future creatives to write award-winning Copy at London's School of Communication Arts 2.0, runs masterclasses with D&AD and supports young female creatives with Creative Equals, SheSays and Who's Your Momma.

Vikki is also the brains behind #copywritersunite nights across the UK and Europe where Copywriters can meet in real life. But if real life isn't your thing, Vikki is without a doubt one of the best people to follow on Twitter (@VikkiRossWrites) - keep an eye out for one of Vikki's #copysafaris to explore great and not-so-great copy out in the wild.
And to top it all off, Vikki also co-created Copy Capital, an annual event to celebrate Copywriting – there's absolutely no denying Vikki is the ultimate Badass Gal.